Dale Ream puts being called a "counselor" back into what it means to be an attorney. Dale has been counseling inventors and entrepreneurs for 20 years regarding how to protect their intellectual property and then how to roll up their sleeves and bring their products to the market. Our clients go quickly from patent to prototypes to manufacturing to sales. Are you ready for pages of REAL LIVE inventor success stories? All through Ream Law Firm. Scroll below for examples of products patent attorney Dale Ream has had a hand in.
---
Rope Chocks
We have all heard of "wheel chocks" -- the blocks that keep the wheels of your car from moving, right? Well, this airplane buff from Kansas knew there had to be a better way to secure his airplane… Meet "Rope Chocks!", the utility patented innovation patented by the efforts of Ream Law Firm for yet another inventor who stayed the course and is now reaping the benefits. Buy one here https://ropechocks.com/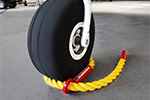 Out of Sight Flush-Mount Television
Are the numerous video cables visibly extending from behind your television driving you crazy? Yes, you guessed it, a long-time client of Ream Law Firm developed (and we patented) the world's first bracket for pulling down a television over a fireplace mantel and which mounts truly flush with the wall when done. Read his story and order product here: https://outofsightmounting.com/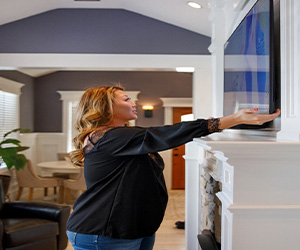 Flow Chaser
Here is an example of an entrepreneur who has built a successful small business and has recognized the need to protect an innovative muffler design with a patent and trademark. Ream Law loves small business clients! Place your order here: www.dtexhaust.com
---
Loblola
Attention female business owners and dog lovers! This incredible female entrepreneur has a great back story and is truly doing what she loves and is a great client of Ream Law Firm. Thank you, Jenna! Purchase your all-natural dog toys here: https://loblola.com/
---
Stresslet
Two in a row for female business owners? Yes! "Stress relief for a busy day." With issued patent and trademark in hand from Ream Law Firm, this entrepreneur is selling product with legal protection in place! Purchase one for your friends and one for yourself! https://stresslet.com/our-story/


---
Recoil Ring
Who would've thought placing a metal ring on your finger would absorb the violent recoil experienced in firing a gun? Well, a great entrepreneurial client of Ream Law Firm, of course! Buy a patented gift for your gun loving relatives and support another entrepreneur. www.therecoilring.com

---
J. Corwin Lures
Fishing professionals, you have probably purchased these incredible lures, unaware of the patent and trademark work that has surrounded them! Here is another entrepreneur who has built a successful small business surrounded by patent and trademark success provided by Ream Law Firm. Check these out for your family and friends and support our inventor: https://www.jcorwinlures.com/about

---
Quick Out
Congratulations to our client for doing the hard work of securing the retail sales! After securing his legal rights with a patent, Ream Law Firm became a cheer leader for this client who came back to show us a video of his product selling on the market. Check it out!
---
OX Carry the Load™
This project is another great example of an entrepreneur solving a basic problem and then turning it into a profitable business. Moving quantities of loose and irregular shaped materials needs the simple utility assistance of an OX Mat which, when loaded, may be carried by a group or even dragged. Ream Law Firm was here for brand name protection. Buy yours here: https://theoxstore.com/

---
The Brush Tote

New products are often born out of necessity. This entrepreneur designed the perfect "tote" for carrying paintbrushes that improves the lives and work product of painters, whether DIYers or professionals. He turned first to Ream Law and we secured a utility patent and now we are proud to direct consumers to where they can purchase his great product! https://thebrushtote.com/
---
Consumerbreak™

This is a repeat of a Success Story that we reported on many years ago (in fact, it is at the very bottom of these pages). Ream Law Firm is proud to have secured a couple dozen registered trademarks for the many themes associated with the Consumer Break mobile app. Click the link, download the app, and join the members that are regularly making money simply by playing games. www.consumerbreak.com
---
BeamBuster™

BeamBuster™ Contractors and DIY'ers, say "welcome" to the emmettool™. This practical inventor created a multi-tool having 3 different socket tools in each end of a socket housing that has become a best friend to anyone with an electric drill. Ream Law Firm is proud to have secured a broad utility patent for a great client and we urge you to buy several for yourself, family, and fellow contractors! https://emettool.com/
---
Boote' Protector

From "super high tech engineering" to super-simple, Ream Law Firm brings the right IP protection to its clients and referrals to manufacturers. Here, we secured the registered trademark so this product can launch on Facebook live February 2021! Shirley, the career flight attendant, is doing her part to protect your boote' in the friendly skies (or other public transit)! Do your part to fight the pandemic and buy one here: https://booteprotector.net/
---
Evoshare

You hear "Cash Back" in commercials every day for credit cards. But how about cashback from online shopping going into your 401(k), other employer associated benefits, paying down your student loan, etc. Welcome to the creation of Ream Law firm clients. This patent-pending system is signing up new customers, participating vendors,
and employers every day, and would love to hear from you! https://evoshare.com/
---
GO2 Device for Endurance

Here, I give this preeminent physician inventor and his team top kudos for how to "execute the plan" like a great movie producer. Simultaneously using great engineers, social media feedback, medical science and, yes, Ream Law Firm, this team now has multiple complex utility patents and more on the way to support great sales of cutting edge products. Buy one for your top athlete today: https://go2devices.com/products/go2-for-endurance
---
EMP SHIELD

Now with a growing family of complex electrical utility patents and trademarks, Ream Law Firm celebrates the growing world-wide sales of EMP Shield products. Protect your house, car, and all things electrical from solar flares, lightning, and even a nuclear bomb. Check them out here:https://www.empshield.com/
---
Follow Focus Gears

Known in the industry as "Helicopter Sean," here is a true entrepreneur who "followed" his passion for producing the perfect, seamless, follow-focus gear for high end camera equipment. Helicopter Sean continues to be an awesome patent and trademark client. Congrats, you've made it! Buy from the huge inventory of products selling around the globe, https://followfocusgears.com/
---
Angle Dolly

Ever wondered how those super high electrical cables get strung out across the mountains and plains? (i.e. by helicopter and high acrobatics) then you will want to check out this Ream Law Firm client's product here. https://angledolly.com/ Had to get this one to the top of the list – super proud of these engineers and the 3 Utility Patents we've secured for them and for their national and global sales!
---
My Cruiser Luggage

Here is another one that warms the heart. This client came to us with an incredible passion for luggage – yes, that's right, for luggage. Seriously, she has worked patiently for several years and has done the hard work of lining up prototypes and now manufacturing on her own and we are just glad she involved us and we encourage you to buy her great product here: https://mycruiserezpack.com/
---
Volt Clip Pro

It sounds so simple – and it really is! A belt clip for holding a battery for your drill or other battery-powered tools. Ream Law is privileged to assist this inventor with a patent and hooked him up with a manufacturer. Now, this inventor has an inventory of products for sale right now from his own website. Buy one now for the contractor you know: https://voltclippro.com/
---
The Swankey™

Yes, the patent and trademark protecting this product and brand came from Ream Law Firm. Now we are happy to receive product updates and specials via email just like our client's customers. Selling on Amazon, buy one today for a wine lover!
---
Security Boot

This project all started with the premise that there is a better way to prevent the devastation from hurricane-induced storm surges on the coast. Ream Law Firm was called on to obtain a utility patent for the Security Boot. Now, this product is adopted and mandatory in South Florida. See the inventor's company NOW!! Another real inventor, real patent, and on the market.
---
Straight Ahead Deer Drag

Deer hunters – here's one for you! This lovely couple from Missouri found the perfect solution for pulling a deer out of the woods (sorry Bambi lovers) and turned to Ream Law where we assisted with patent, trademark, and referred them to a manufacturer in China. Now, the product has floated back to the US and sales have begun. Buy now for yourself or for a deer hunter you love!
https://www.straightaheadproducts.com/
---
Hard Duck™ Dryer Vent

Hard Duck™ Dryer Vent "This success is purely a matter of persistence! The inventor is an expert in his field and deserves success due to his persistence in obtaining a patent and trademark with the advice and counsel of the Ream Law Firm. So you can help the market help this inventor – buy it here and protect your house! https://hardduck.com/ Put it on your Facebook and help it go viral!
---
AshKicker™

AshKicker™ — Another entrepreneur goes from using his own prototype in the backyard to using Ream Law Firm to obtain 2 patents, a trademark, and now on the market – time to earn some money! Buy it here:
https://theashkicker.com/ "the grill liner that kicks ash!"
---
Entrepreneur and CPA
Not only is Raven an owner of an incredible CPA accounting firm, but she is also an entrepreneur and owner of a patent and trademark with the assistance of Ream Law Firm. She has become a true friend of our firm and knows we are just a phone call or email away if she needs her IP lawyer.
I highly recommend Raven Herron & Company: https://www.ravenherroncpa.com/
---
InCool Comfort Core Cooling Fan
We helped Barb, a busy mother and salon owner, turn her homemade solution for applying makeup into a three-in-one (mirror, fan and light) vanity accessory that has received three utility patents. We are thrilled to be three-for-three in obtaining strong utility patents for this entrepreneurial salon owner. Her product line continues to develop and she is poised now to make the final push to the market.
Check out her attractive product, read her inspiring story, and help her KickStarter campaign here: https://www.incoolcomfort.com/
---
WindowKitty

We are so privileged to work with such creative inventors. We secured the utility patent and only needed to aim this entrepreneur in the right direction: now the product is on Amazon and many vendors for sale.
Buy one for your favorite feline!
---
Drop N Step

Celebrating another local entrepreneur's success! Starting with a prototype for his own young children, the Drop N Step was born. Turning immediately to Ream Law Firm to oversee the patent process, strong utility patent protection has been obtained, and, now working with a brilliant high school entrepreneur program, the product is ready for sales! These clients have become like family in so many ways!
---
AM-PM Nursing Scrubs

We love to celebrate our client entrepreneurs, and here is another one! Did Melanie give up when her patent application was at first rejected? Or when her trademark registration was refused? No! She retained Ream Law Firm who used all of its experience to fight for her, and win both! Just in time as her ingenious two-way (casual/formal), nursing scrubs are taking off!
Thank a nurse you know and buy one here: AM-PM Scrubs
---
MyCleanAir

Revolutionary! Smoke at work, in a restaurant, or anywhere — and no one smells or sees anything. Here's an inventor we were fortunate to obtain the initial U.S. Utility Patent for. Then we simply made ourselves available for phone calls for counsel and watched him perfect the prototype, make trips to China, and now is introducing the product on Amazon.com.
---
WeatherWorx Systems Canopy

Here is another entrepreneurial success that puts the average inventor to shame. Saul Ryan spent hundreds of hours perfecting the design, choosing the Ream Law Firm who obtained a U.S. Utility Patent along with managing foreign patent applications, and arranging international funding for the upcoming market launch. Check back soon so you can order one! See it here: WeatherWorx Systems Canopy
---
Balconista TM — Balcony Tables and Drink Rails
This project represents one of the greatest examples of entrepreneurism that our firm has been associated with — period. Our clients retained the Ream Law Firm for expertise and counsel in pursuing multiple patents and trademarks while themselves developing prototypes, arranging the manufacturing, and launching a spectacular website. Stunning and innovative modular balcony tables and accessories are now on the market. You can purchase them here: www.balconista.net.
---
Kover KrittersTM

Referred to us by a long-time Chinese manufacturer who was building her product, this inventor came to the Ream Law Firm for help in pursuing both patent and trademark protections. (One patent granted and one more pending). Who knew cleaning a swimming pool could be this entertaining? With a crowdfunding campaign successfully completed, you can buy one for your pool.
---
Glove PilotTM

The Glove Pilot TM solves the problem of getting a child's fingers to find the proper path into a winter glove — especially when the glove is wet or icy! This frustration led this "mom" to develop a "shoe-horn for the fingers" that guides a child's fingers straight into the fingers of a glove! We're glad "mom" trusted the Ream Law Firm for legal protection, to recommend a trusted prototype firm, and we are thrilled the product is on sale here: www.glovepilot.com
---
Trim PerfectTM

What does an independent non-corporate inventor become when he has a great idea, seeks patent protection, and proactively seeks a manufacturer? He becomes a successful small business whose product is now selling in big-box stores. Realizing that sanding wood trim is very difficult, he invented the Trim Perfect TM sanding device and tapped the Ream Law Firm to seek patent protection. The product has recently been introduced in do-it-yourself retail outlets.
---
GLOBAL JUSTICE

Ream Law Firm offers expert patent assistance to a remarkable father-daughter duo with the patent pending Global JusticeTM system which aims to bring safety to motorists and accountability to law enforcement in the days ahead. Enjoy these links or even get involved!
https://www.indiegogo.com/projects/secure-your-liberties-with-global-justice#/
---
Doodle Walker

This entrepreneurial client has done it all and we celebrate his success. In his retirement, he turned to the Ream Law Firm to pursue a utility patent, a design patent, and a registered trademark. He followed our recommendation to a prototype firm and now has the product ready to sell! Great job, Jim Shaw!
---
Kangeaux Walkabout
Unusual name? Perhaps. But a useful invention indeed! From the beginning, this independent inventor had the "textbook" passion to push his idea all the way to the market — and now he has done it. He now has a full nonprovisional utility patent issued and enforceable with the guidance and experience of the Ream Law Firm. Check it out on the market.
---
Discrete Defense
Now a great new product for law enforcement vehicles — The AR-15 gun mount is perfect to mount an important law enforcement anti-crime tool for quick and convenient usage. And now — patented for this entrepreneur. Already on market. See it here: http://discretedefensesolutions.com/
---
Lenz Frenz
A wonderful story of a mom supporting her son whose eye was injured by a bully. Now their product is available on the market by a true entrepreneurial family and friends who will not be stopped. While the patent is still pending with assistance from the Ream Law Firm, wholesalers can order.
---
Madison's Stretcher Pack

A convenient purse-sized pack that quickly unfolds to an easy-to-carry emergency stretcher for animals. Our client is absolutely passionate about this product and that drive has brought a great product to market. The Ream Law Firm is proud to have obtained allowance of a strong utility patent for this independent inventor. Product is available: http://www.petstretcher.com/
---
SightMaster Pro

This inventor is not new to developing new products that the market wants. Here, he made an innovative improvement to an old line of products used to push sights off of most brands of pistols to make way for new installations. And then he came to Ream Law Firm to protect his product with a utility patent. If you want to learn more or go buy one, go here: http://www.glockstore.com/sight-master-pro
---
Cheezytoons ©

While patents are the norm at Ream Law Firm, we also have some incredibly talented artists and marketers for whom we have secured dozens of copyrights and trademarks to protect their innovative visual works of authorship.
Enter the incredible world of cheese: http://www.cheezytoons.com/
---
Renair Shotgun Sports

A true entrepreneur continues to innovate, bringing a whole new dimension to shotgun sports. This is so far beyond our concept of throwing up clay pigeons and trap shooting. We are proud to help this businessman pursue the patent rights to which he may be entitled.
---
Fridge Fix

Who said American entrepreneurship is dead? See this inventor's story of working to solve a problem and then build a family business around it. While this inventor gets all the credit for "building it", Ream Law Firm is proud to have secured one patent for this product with another still pending. You can see it and even buy it here: www.smartrvproducts.com/
---
North Creek Wood Stove Fountain Steamer

This inventor is truly special — not only is he innovative and now has a great product selling well on Amazon (click the link to view and order), but he regularly submits great analysis and feedback regarding prior patents so as to enable the Ream Law Firm to argue even more effectively on behalf of his pending utility patent application. We tip our hat to the innovation, engineering and patent contributions of this independent inventor! https://www.amazon.com/North-Creek-Stove-Fountain-Steamer/dp/B00S3U4870/ref=sr_1_1?ie=UTF8&qid=1449178445&sr=8-1&keywords=wood+stove+fountain
---
Range Minder Stove Safety
This inventor is the most patient and persistent ever! This innovator came to Ream Law Firm to patent the initial design of a stove knob to help senior citizens be reminded of an active burner on a stove. Then, after negotiating a license agreement and years of "always available" counsel from patent attorney Dale Ream, the patent is licensed to a company dominant in fire safety products and on the market in 2014.
---
Talent Provider

Already an extremely talented and in-demand entertainer, this client developed an internet-based scheduling and booking system that maximizes keeping his schedule full up. Ream Law Firm was tapped to secure the patent sights because of its specialty in online business methods such as software, mobile apps and the like.
---
The Flex Assist
We are very proud of this entrepreneur and excited about his success with a muscle flexibility product. We are also thankful for the opportunity to assist him with obtaining critical product development, prototyping, and manufacturing while our law firm provided business and intellectual property counsel. Everyone should check out his awesome website now that the product is in inventory and sales are flowing in.
---
Global IntelligenceFAX, LLC
One of Ream's earliest clients was a true entrepreneur whose idea came from firsthand experience in his industry. With Ream's guidance and assistance, a nonprovisional patent was obtained. Then a wonderful opportunity occurred to team up with an experienced executive group who "took it from there" and has created an online system that is revolutionizing how information can be easily found regarding ownership and encumbrances on non-titled assets and at the same time offering instant visibility and additional protection to secured parties.
Check it out at www.gfaxx.com
Do you have the next online business model?
---
ICE-ZZZ Steps

Announcing another of our clients who is taking all the right steps to maximize his opportunity. Ream Law Firm is proud to be representing the inventor of the ICE-ZZZ steps concept on a pending patent application. The product is a temperature adjustable shoe that may be inserted into a freezer and then worn in order to relieve foot discomfort.
Check out the product hitting the market now! ICE-ZZZ Steps
---
HandiGate Ramp

This exciting product is a split tailgate for a pickup truck that quickly transforms into a pair of safe and secure ramps for loading convenience. Attorney Dale Ream assisted this client with U.S. and Canadian patents and has managed multiple license agreements for many years.
---
Bull Pull Post Puller
Ream Law Firm secured patent and trademark protections for this inventor and entrepreneur on his way to the market. This patented product is selling online and making major inroads with big-time farm and equipment retailers. An inventor's hard work with experience and guidance in his corner = success!
---
Bulk Particulate Packaging System
Having worked in the insulation packaging industry for many years, this inventor designed and built a new system and method for first compressing loose bulk material. Ream represented this inventor in obtaining multiple utility patents, assisted with execution of a lucrative license agreement, and provided other legal services. www.reynoldseng.com
---
Powerloo® Dog Toilet

Dale assisted in arranging concept design engineering that obtained a strong utility patent for this entrepreneur. By the time the patent was issued, the inventor had already taken steps to have the product manufactured and is selling them here, www.powerloo.com. Ream Law loves working with inventors who have ingenuity and entrepreneurial spirit.
---
Pro Locker™

This is an example of a client who only needed a connection to a manufacturer who could cut his costs.
With our connections and assistance, manufacturing costs have been slashed and the product can now be sold for a handsome profit.
---
Bucket Walker

Although this client already had a patent, he needed a prototype and manufacturing. Ream used his connections to yield a high-quality prototype and manufacturing for the client. Now the product is selling well as a result of the inventor's strong marketing efforts. Great teamwork.
See the online store and buy now! www.bucketwalker.com/
---
EZ Living Loft Bed

The EZ Living Loft Bed is another example of a true American entrepreneur. Patent attorney Dale J. Ream became involved in the early stages to provide engineering and patent consultation to the inventor. Multiple nonprovisional patents were issued as a direct result.
The product is now available for sale by a long-time furniture manufacturer.
---
EZ Terrain™ Air Ride Seat

This product incorporates an air spring and compressor into a lawn tractor seat assembly and presents the opportunity for much-needed comfort to the task of lawn mowing. The inventor of this innovative product received engineering assistance with Ream's advice, strong patent protection, and licensing to a manufacturer willing to further develop this product for sale to dealers and individual consumers. https://ztrpuffer.com/
---
Johnny's Jungle™ IV Pole Toppers

One of the warmest examples of how an inventor's passion turned into success, this female inventor chose Ream Law Firm to fight and win her utility patent and then counted on Dale's advice and counsel to go directly to market. See her website where the products are now purchased and market share is growing.
---
Saceasi ®
This exciting handbag game has undergone product refinement, patenting, and licensing to international sports and institutional sales firm which first brought this product to market many years ago. With guidance from Ream, this inventor is now joining forces with a similar product to make a renewed and even bigger market introduction.
---
Baby Jar Organizer

Following receipt of a nonprovisional patent and a functional prototype, this entrepreneur moved forward on her own to set up manufacturing and distribution. Another of Ream Law's clients makes it to market, partly due to Ream Law's experience and partly due to her plain old hard work! Congrats!
---
Crossbow Laser Sighter
This revolutionary hunting product is getting a lot of media attention and is another great example of a regular guy with an entrepreneurial drive. With a U.S. Utility Patent already secured through the efforts of Ream Law and a patent pending on a related product, with the product being manufactured, and with multiple market brand leaders reviewing the best path for product introduction, this product is poised to really hit the target.
---
Slammer Tomcat Targets

Another real live product on the market for sale! From the same inventor as the Crossbow Laser Sighter (above) comes another scope sighting and hunting innovation. Once again, Ream Law was instrumental in providing engineering refinements to an already great invention, utility patent assistance, and consultation regarding licensing. Buy these now at Cabela's for the hunters in your family! See Video Here
---
Zun™ Out of this World™
Brain Busting Energy
The founder of this innovative beverage product is a phenomenal entrepreneur in his own right who has worked with Ream Law on multiple projects and has never been disappointed with the effort or the results! Through the guidance and assistance of attorney Dale Ream, this entrepreneur achieved the product development and patent rights that enabled him to enter the marketplace and through his own passionate efforts now rivals the leaders in the energy drink industry.
---
Consumerbreak™

We love to see entrepreneurs take their dreams to market – especially when they are Ream Law Firm clients! Winning many trademarks with RLF'S assistance and continuously refining his "App" on Google Play where user's put together jigsaw puzzles of famous brand logo's on their mobile phone screen, fastest times win money prizes. Download the app and make money for playing games! https://play.google.com/store/apps/details?id=com.cigroup.consumerbreak&hl=en_US&gl=US